In these extraordinary times, we feel compelled to take a step back and focus on what matters.
That might sound like a cliché, but the – almost surreal – nature of what we are experiencing throughout the Covid-19 pandemic has forced many of us to shelve thoughts of luxuries. Suddenly, that vacation doesn't seem so important, nor the desire for a new car or expensive piece of tech. During this 'reset', it's our health and the health of our loved ones that matter, with everything else coming a distant second.
Many of us are, of course, worried about finances: job losses, client departures, decreased revenues, 401Ks with plummeting value – the list goes on. However, for some, the financial hit might be limited or non-existent. The people within this bracket have the means to keep small and independent businesses afloat, but the fear is that we see a knee-jerk reaction, a new kind of cancel-culture that will sound the death knell for the services we have relied upon for years.
When 'tomorrow' finally comes, America will dust itself off and get back on its feet, although it might be somewhat battered and bruised. But that's speaking in a general sense, and we know that many individuals and businesses, large and small, will be devastated by this. What is going to happen to the florist who puts a display in your company's lobby each week? Or the guy who comes to wash the office windows? What about your local bar or restaurant? The small salon company that can only do business when there is human contact? The gym? The daycare center? Home and office cleaners? As you might expect, we can come up with many more instances of services that will struggle to exist in the coming weeks and months.  
For that reason, we are imploring those who have stable incomes to consider these words – #DoNotCancel. That might entail continuing to pay for a service you won't use for a while, such as your membership with your local gym, or by paying for something that you could use later on, like a voucher for a restaurant or a beauty salon; buy it online now, and use it later when it's appropriate. Above all, we want people to start thinking about #DoNotCancel and the myriad of different ways they can help.
Here are some suggestions:
Buy online vouchers for social activities you can use later.
Waive the refund for canceled theater tickets.
Rebook canceled hotel rooms and flights for a date in the future.
Consider setting up a retainer for your childcare providers, even if you aren't using them.  
If it's necessary, organize a reduced payment rather than cancelling a service outright.
For many of us, it will seem unnatural to pay for a service we no longer receive. But #DoNotCancel is about tapping into a scenario with a bigger picture, a long-term view. Of course, if you are struggling to make ends meet, nobody will expect you to continue paying for something you are not using. But otherwise consider contacting whomever it is that provides these services for you, and then open a dialogue with them. That single phone call to reorganize rather than cancel a payment might act as the tipping point that keeps a business afloat.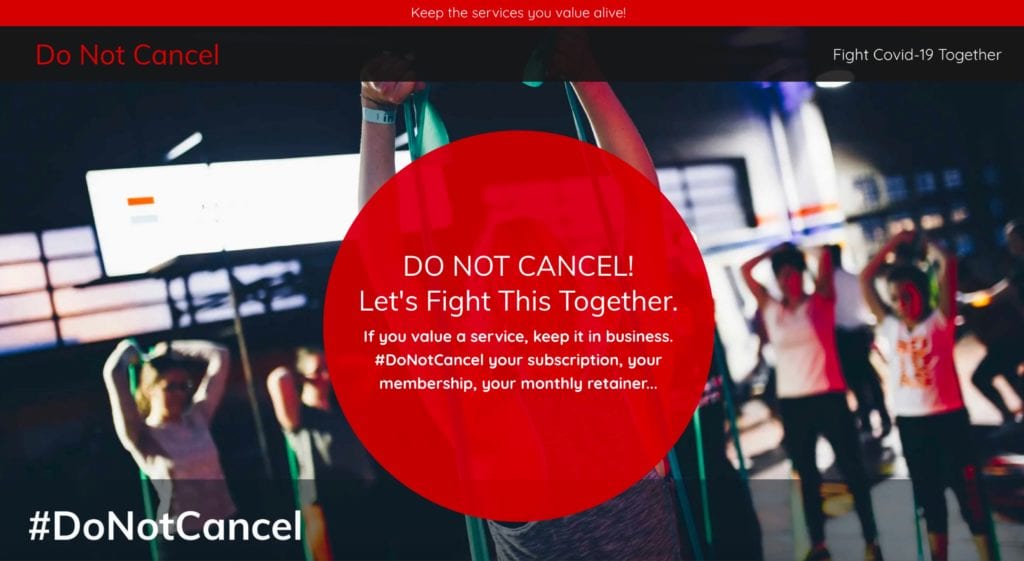 We at 3Advance set up #DoNotCancel with a simple goal: "To encourage those with stable incomes to continue to pay for those services they've enjoyed, even if they need to pause activity." If you are able to, we ask you to support your local businesses by keeping your subscriptions and memberships open. If you cannot help your local business financially, then maybe you can help us get the message out to people who can.
Share the Do Not Cancel website or use the #DoNotCancel hashtag on social media and show local businesses you care. Let's fight this together.
3Advance is an app development company in Washington DC that helps startups, non-profits, and other businesses turn great ideas into beautiful, simple mobile and desktop apps. If you'd like to learn more about how we can help you create a better way forward for your company, drop us a line. We'd love to hear from you.
Schedule a chat with yours.
GET STARTED
Or sign-up for our weekly newsletter, What's 'Appening