News in apps delivered weekly to your inbox on 🌮Tuesday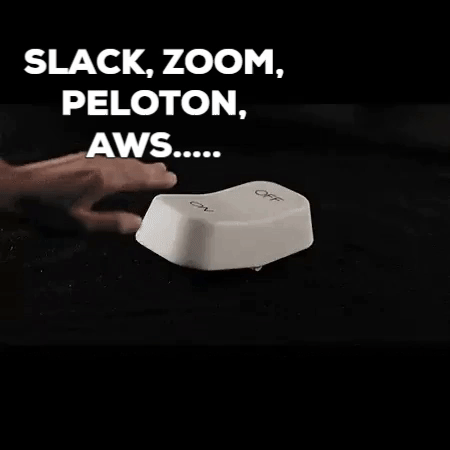 SLACK AND SEVERAL OTHER BIG PLATFORMS SUFFERED AN OUTAGE LAST WEEK
🌮 TLDR
Some essential platforms, including Slack, GitHub, and AWS, went down for a few hours last week, once again showing how dependent we are on them to make our teams tick. Reddit has added some new features to its app, making finding and connecting with communities a little easier. EWA is a language app that uses well-known media content to make learning easier. What's dAppening looks at an existential question for web3 – can it operate on a centralized internet?
What's 'Appening is brought to you by 3Advance, the product development team that eats, sleeps and breathes apps. Not diggin' the apps? You can opt-out below. Forwarding to a friend? They can subscribe here.
🎬 Takes
🔌 💻 Slack – Team Collaboration Platform Among Several Hit By Outage
Diving back into work after a long weekend sometimes feels like you need a vacation from your vacation. And, the day after Presidents' Day there was a good chance you could have slacked off for a few extra hours without your boss knowing it. Slack, Zoom, AWS, Peloton, GitHub, and some other essential services went down for a few hours after an unexplained outage. When we say 'essential', we mean it, as many of these platforms make modern businesses tick. We use Slack ourselves at 3Advance, and it's a vital service we use to connect our team members in the US, Europe and Nepal. To be fair, Slack won a lot of plaudits for its response to the outage, keeping users updated on the issues on social media and taking a light-hearted approach. As for Peloton, well, it seems the company can't catch a break at the moment. The outage only lasted for a few hours, and it didn't seem to be as disruptive or widespread as the Facebook and AWS outages last year. However, it once again shines a light on our dependency on certain platforms. When they go down, the impact can be felt all over. #SlackLightsOut Read more here.
📲 🔎 Reddit – First Major Revamp for Mobile App in Over Two Years
One of Reddit's charms is its scattergun approach to just about everything. In terms of UX and design, the messy-looking app really shouldn't work in 2022, but somehow it does. It fits in with the brand's mantra, "dive into anything", because it's a Forrest Gump box-of-chocolates experience where you don't know what you're going to get. Anyway, Reddit has decided to make a significant change, adding a new Discover Tab and revamped navigation system, both of which are designed to allow users to better explore their interests. It's really cool that Reddit is implementing this due to user feedback, and we think big companies should do it a lot more (👋 Facebook). There are around 100,000 active communities on the platform, many of which remain under-exposed. Reddit itself admits it's been "hard" to find subreddits and communities that align with an individual's interests. These new features should better connect them, particularly with new users who might find Reddit's eccentricities a little confusing. #RedditNewFeatures Read more here.
📚 📺 EWA – Language App with Novel Approach Sees Over 50M Downloads
What makes a great app? Many different things combined, of course. But, we can boil it all down to the following: A clever idea that is well executed. EWA (pronounced E-wah) is a good example, as its approach to language learning has helped it carve out a significant portion in an incredibly competitive sector. There are big players like Duolingo and Babbel in the language learning arena, but EWA has found a niche by using excerpts from well-known books, tv, and movies to engage users. It could be anything, from a sarcastic joke by Chandler from Friends to passages from Hemingway's opus The Old Man and the Sea. The idea is that the learner will already be familiar with the plot line, and it's designed to be more engaging than reading a monotonous passage about asking directions to la piscine or la gare routiere. This kind of technique is used in some schools already. And with over 50 million downloads and close to 4 million monthly users, it seems EWA's methods are proving the technique is effective. #EWAAppDownloads Read more here.
🕸️ What's dAppening?
🪙 🍏 Coinbase – Decentralized Ideology Operating in a Centralized World
The web3 movement is broad and multifaceted. But whether it's NFTs, DAOs, blockchains, or crypto, it has always put one value above all others – decentralization. But, is it truly possible to apply the principles of decentralization to an internet governed by centralized entities? According to Coinbase, the answer is nope – especially if you want mainstream adoption. If you want your crypto app listed on the App Store or Google Play, you need to play by the rules of the two Big Tech behemoths. Yes, there is a decentralized portion of the web where you can operate away from Big Tech control, but the average non-expert in crypto is going to access it through centralized platforms, and that means it comes under the wing of Google and Apple, as well as others like Amazon. Many have mocked the utopian ideals of web3 enthusiasts, including Jack Dorsey, who claimed that the common ownership structure of web3 is a mere illusion. And while we don't agree with all the critiques, it's clear there has to be some sort of middle-ground between two competing visions of the online world. #Web3Centralized Read more here.
Meanwhile at 3Advance…
By now you know that we are always excited to announce client app launches, introduce our team and share new blog posts with you. We love the work we do and the problems our client's solve with the apps we build. But, we recognize that none of this is possible without a team of people that make it all happen. Our staff, the clients we work with and our network are all spread out all over the world. There are people nearby all of us that are experiencing impacts and are affected by the invasion in Ukraine. We want to take this time to say how much we appreciate you, enjoy having you in our 3Advance community and hope you are safe. And, this is a friendly reminder that we are here for you, and if you or your company needs help, please do not hesitate to let us know how we can jump in. ❤️ 📱
Schedule a chat with yours.
GET STARTED
Or sign-up for our weekly newsletter, What's 'Appening