News in apps delivered weekly to your inbox on 🌮Tuesday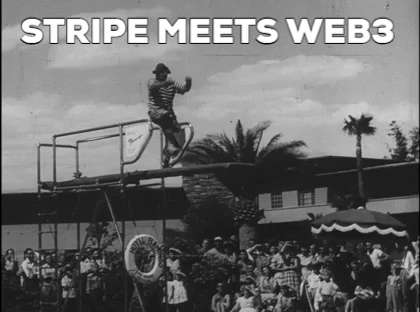 STRIPE JUMPS BACK INTO CRYPTO AND AIMS TO REVOLUTIONIZE WEB3 PAYMENTS
🌮 TLDR
Stripe, a pioneer of web2 payments, has made a (welcomed) return to offering cryptocurrency solutions, and the impact will likely be huge in the web3 sphere. Uber has been making several updates to its apps, including a new bill-splitting feature for Uber Eats. Typeform has raised $135 million, and we hope it leads to more great features from one of our favorite online tools. And LimeWire is back – but repackaged as an NFT marketplace.
What's 'Appening is brought to you by 3Advance, the product development team that eats, sleeps and breathes apps. Not diggin' the apps? You can opt-out below. Forwarding to a friend? They can subscribe here.
🎬 Takes
🕸️ 💰 Stripe – Online Payments Company Makes Cryptocurrency Return
This could be a game-changer. Stripe, one of the world's most important financial technology companies and most valuable private startup (worth a cool $95 billion), has announced a broad range of cryptocurrency services, including support for the FTX cryptocurrency exchange. Stripe was a pioneer of web2 payments, knocking down barriers for developers and small businesses alike. We've even used it ourselves here at 3Advance on a huge number of projects. Our CTO (and resident web3 expert) Darren Gibney tweeted on the subject, stressing how web3 developers have missed Stripe's setup, ease-of-use, developer and end-user experience. And Darren is thrilled at the prospect of using Stripe in 3Advance's upcoming web3 projects. Stripe previously facilitated bitcoin payments, but it withdrew support claiming bitcoin had become less of an exchangeable currency and more of a tradeable asset (a fair point). The return to crypto is hugely significant, as Stripe has the opportunity to start shaping a sector that has been hampered by inaccessibility. Its new services will support crypto-focused businesses, including exchanges and NFT marketplaces, with a range of services like fiat currency APIs, KYC tools, and fraud prevention. It's been a good month for Stripe, as it was named the "world's most innovative company" by Fast Company for its Stripe Climate campaign. We guess that it should be your second favorite company with Irish founders, just behind your pals here at 3Advance. #StripeCrypto Read more here.
🤳 🍔 Uber Eats – App Adds Bill-Splitting Feature for Deliveries
Now, on the face of it, this news is not as earth-shatteringly significant as Stripe's return to crypto, but there is a little more going on with Uber than meets the eye right now. The bill-splitting feature, which allows users to use a "group order" function to easily split bills on the app, is part of a range of new additions to both the Uber and Uber Eats apps. Recently, we got news of the "Uber Explore" feature, enabling users to book events like concert tickets and make dinner reservations. It's seemingly all part of Uber's cunning plan to evolve from its core ride-hailing and food delivery businesses to become more of an all-rounder lifestyle app. Will it work? We can't say for sure yet. But Uber Eats announced its first-ever profit last month, and the ride-hailing business has emerged from its pandemic-induced downturn; so things are looking up for Uber. #UberSplittingBills Read more here.
⌨️ 💵 Typeform – Online Form Builder Takes in $135 Million in Series C Raise
Typeform is one of the tools we love using at 3Advance. It's has great integration with other tools like Google Forms, Asana and Office 365, and brings a beautiful and interesting user experience to otherwise boring forms. The Barcelona-based SaaS company has been one of the stalwarts of online form building and surveys since being founded a decade ago. Typeform takes a "people-friendly" – translate that as "less boring" and "less fidgety" – approach to online forms, and it was well ahead of its time with its low-code and no-code tools. It's actually been over four years since its last raise (a Series B of $35 million), but that seems to be by design. Typeform has been ultra-careful in its stewardship of invested funds, focusing on "sustainable growth while prioritizing efficiency". But this latest raise comes at an inflection point for the online marketing tools sector, and there are many competitors now. Typeform intends to use the Series C funding to accelerate growth, explore new product development, and offer new features and integrations. We are excited to see how this improves one of our favorite tools in the near future! #TypeformRaise Read more here.
🧐 Stat of the Week – Over 7M YouTube Views
It's been a couple of years since Apple first live-streamed a special event on YouTube, with around 1.8 million people watching Tim Cook strut his stuff while unveiling the iPhone 11 in September 2019. This week, those numbers almost quadrupled as YouTube viewers tuned in to see Monsieur Cook show off a host of new Apple products. There was some cool stuff, including Mac Studio, the return of the iPhone SE, and the announcement of M1 Ultra chips. But, we have been saying for a while that unless you're a high-end designer, musician, or videographer, the Apple product shows aren't the must-see events they used to be. Still, Apple did unveil a lovely new green iPhone – just in time for St. Patrick's Day. #AppleEvent Read more here.
🕸️ What's dAppening?
🟩 🎶 LimeWire – Music File-Sharing Brand Resurrected as NFT Marketplace
Oh wow. LimeWire, the peer-to-peer file-sharing company that became a music "piracy icon" in the 2000s is back… but not as we know it. LimeWire is relaunching this May as a music-focused NFT marketplace. The idea is that you'll be able to buy and trade digital musical collectibles, such as original album artwork or special live recordings. LimeWire hopes to get some big artists on board, and it has a moonshot goal of getting 1 million+ buyers signed up by the end of the year. Importantly, the new LimeWire is designed to appeal to those who don't use crypto – pricing in US dollars and allowing NFT purchases without any crypto-based gate-keeping, i.e., you can simply use your credit card. It also aims to "solve the technical hurdles of the NFT landscape", which sounds like a job for Stripe. Anyway, this is certainly a blast from the past, and given its patchy history and reputation, we can't work out if it's a genius idea to resurrect the LimeWire brand or not. Hey, LimeWire, if you're reading – fewer viruses this time, please. #LimewireIsBack Read more here.
Meanwhile at 3Advance…
From Paul, Darren and the rest of the 3Advance team (who are pretty much Irish by association), we want to wish you all a Happy St. Patrick's Day! Now we're not encouraging you to turn your beer green, but a "pint of the black stuff" (Guinness!) might be in order… Just remember to let that pint settle before you drink it. 🍻 Some of you have enjoyed our pre-pandemic 3Advance St. Paddy's Day parties, and we promise they'll be back! Till then, hope you enjoy this week's celebrations, because everyone is Irish on St. Patrick's Day! But remember, it's Paddy not Patty! 🍀
Schedule a chat with yours.
GET STARTED
Or sign-up for our weekly newsletter, What's 'Appening